Top 10 Beaches in Petrčane and Vicinity in 2020
Stunning sight of the clear blue sea, soothing sound of waves reaching the shore, just pure relaxation… What better way to take in those warm rays of sunshine and truly enjoy a seaside holiday than just on the right beach? From hidden coves to urban beaches with convenient facilities, there are a number of beaches to choose from in Petrčane, its vicinity and the entire Zadar region, so take your pick among the following:
Basking in the sunlight … at the Sunnyside beach
Happily idling just a few steps from the shore! The pebbly and rocky beach right outside the beachfront apartments in Petrčane allows you to fully enjoy the beautiful Adriatic Sea. With loungers lined up for a cosy day outdoors, you can lie down taking in the view of the sea then go for a swim in the pools or the sea and grab a snack or refreshment at the beach bar. You can also try a few water sports, while your children can have a great time with water inflatables.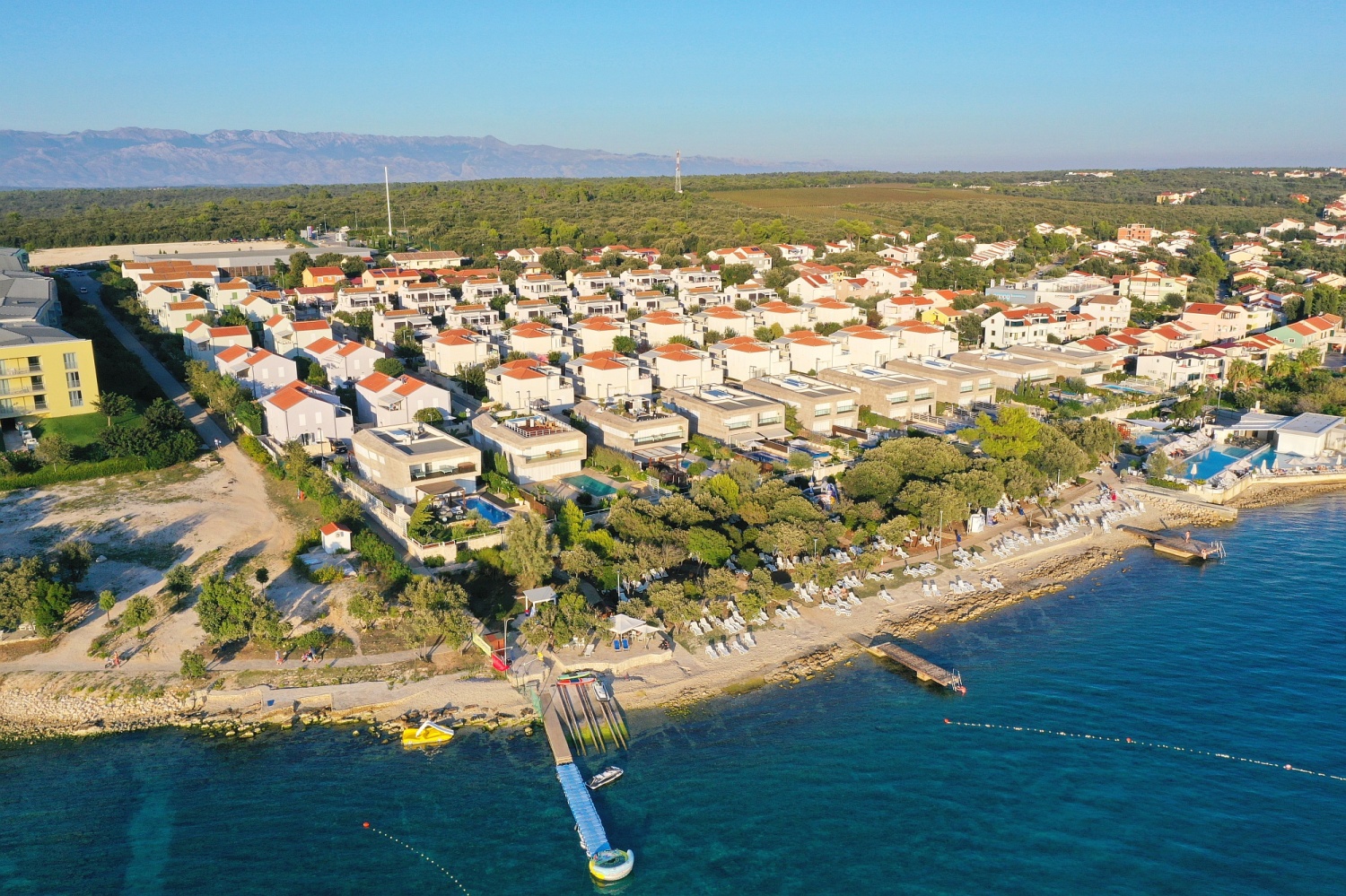 In cool shade … at Punta Radman
Breathe in the fragrant sea air and delight in the transparent sea! The southern part of Petrčane is well known for its lovely Mediterranean greenery providing the perfect shade in the hot summer days. Find a great spot on the mostly pebbly beach with concrete parts and just take it easy. Should you like to be active, why not play a game of volleyball or mini golf on the nearby courts?
Rock it … at Punta Skala
Search for a solitary spot in the northern part of Petrčane! While this area is partially run by a hotel and, thus, there is a limited access for non-hotel guests, you can still find a great place on the beach outside of the resort. So, enjoy the perfect peace and quiet on a rocky/ pebbly stretch of Punta Skala just to your liking.
See the sights, enjoy the beach
A lovely day out and about! Zadar region has so many fascinating places to explore in addition to breathtaking beaches that are regularly listed as Croatia's finest, so why not combine a bit of sightseeing with a refreshing swim, snorkel, dive, sail...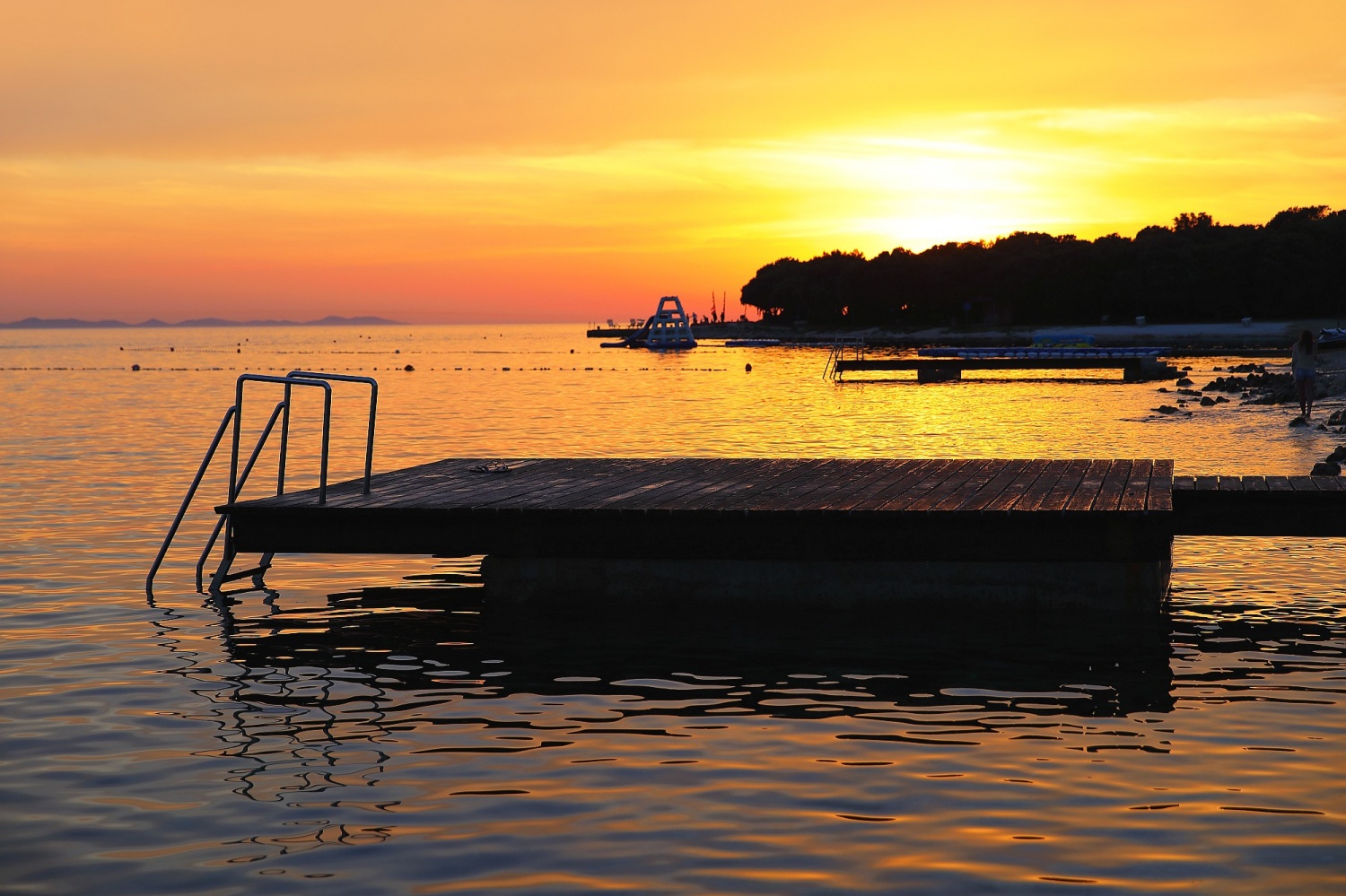 Go for a swim … in the city of Zadar
Roam the streets of Zadar then dive into the sea to cool off! Take a walking tour on the historical peninsula, along its walls and across historical squares, then head southward for a break to Kolovare. The beach caters for families, offers access for people with disabilities and has a Blue Flag status which indicates it complies with quality standards, while practically situated in the city centre.
Sand & medicinal mud … in Nin
Let the charming town of Nin cast its spell on you with its tale and a loooong sandy beach! Nin's lagoon has made it onto the list of the best beaches in the world and is believed to have been a particular favourite with the first Croatian queen, hence the name Kraljičina plaža (Cro. Queen's beach). Thanks to its stretches of shallow water, the beach is a favourite for families with children, even though it does not offer much shade and many catering facilities. The beach is also known for the healing mud, available for free use.
Stunning shades of blue … on Dugi Otok
Get absorbed in the turquoise water at Sakarun beach! One of the most famous beaches in Croatia situated on the northwestern coast of Dugi Otok island owes its attractiveness to crystal clear sea, white sand and Mediterranean greenery providing plenty of shade. There are also a couple of bars where visitors can grab a bite to eat and some refreshment. Apart from this beautiful beach, Dugi Otok has many other breathtaking coves including Telašćica Bay (nature park).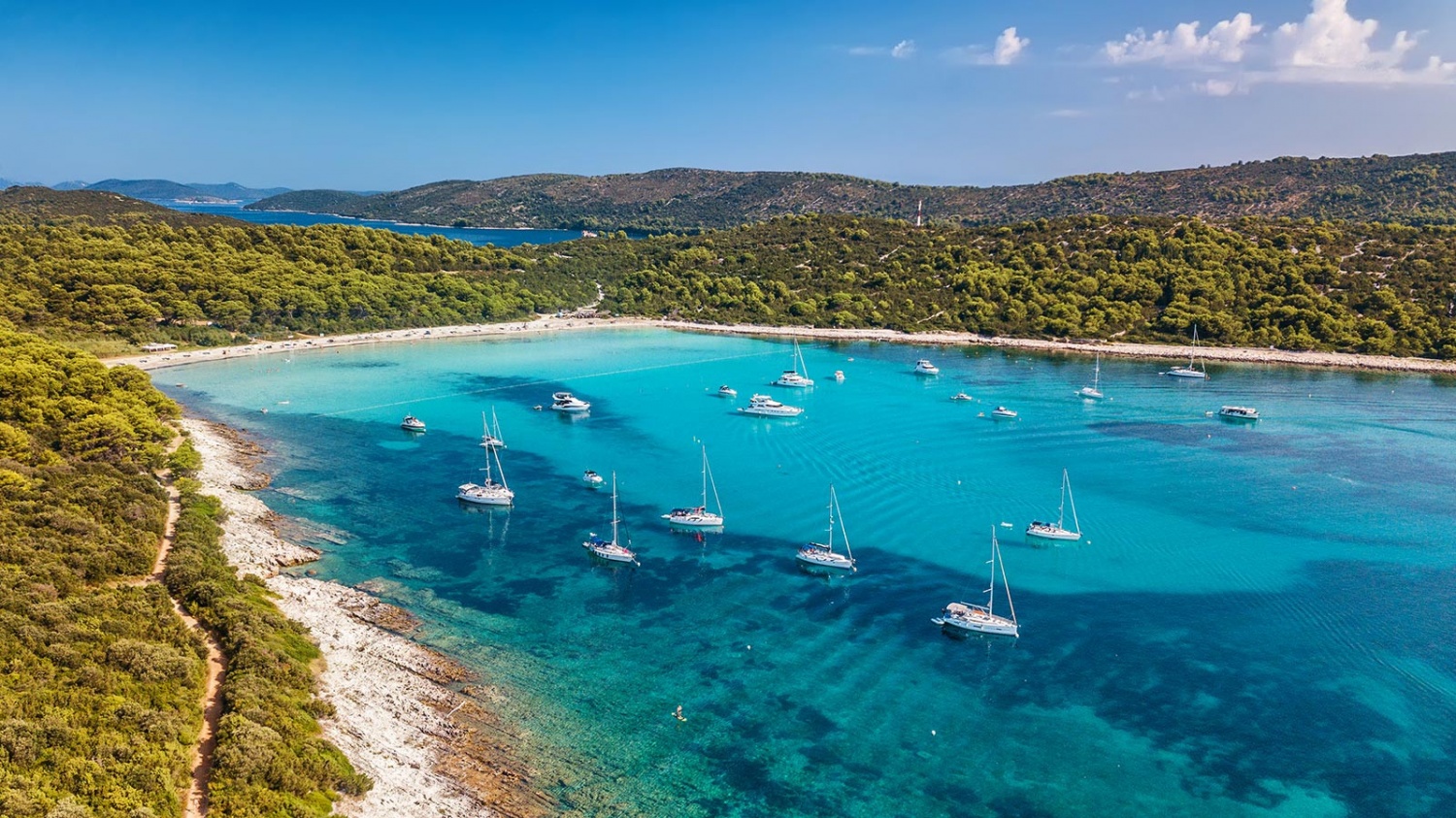 A tale of a beautiful beach … near Starigrad-Paklenica
Hike up the mountain, then relax on the beach! Stop by Kulina beach near Starigrad on your way from Paklenica National Park. Just relax on the pebbly beach just a few steps away from a 16th-century Večka tower and Velebit mountain in the background picturing life as it once was in northern Dalmatia.
Dive in … near Biograd na Moru
Go snorkelling and explore the underwater world in a sheltered cove Crvena luka south of Biograd na Moru, a charming coastal town between Zadar and Šibenik! With rocky and sandy parts as well as lush Mediterranean greenery, the beach is one of the loveliest in wider Zadar area.
Sail to your perfect beach … in Zadar archipelago
Your very own piece of paradise! Sailing enthusiast or not, don't miss the chance to go on a boat excursion when on holiday in Petrčane. Sailing around the islands of Zadar archipelago is too good to miss - you get to admire islands of various shapes, sizes and scenery; swim, snorkel and relax in untouched coves where you anchor. Whether it's a hidden natural beach on Ugljan, Sestrunj, Iž, Rava, Dugi Otok or on one of the Kornati islands (national park), you are in for one authentic experience of the Adriatic Sea.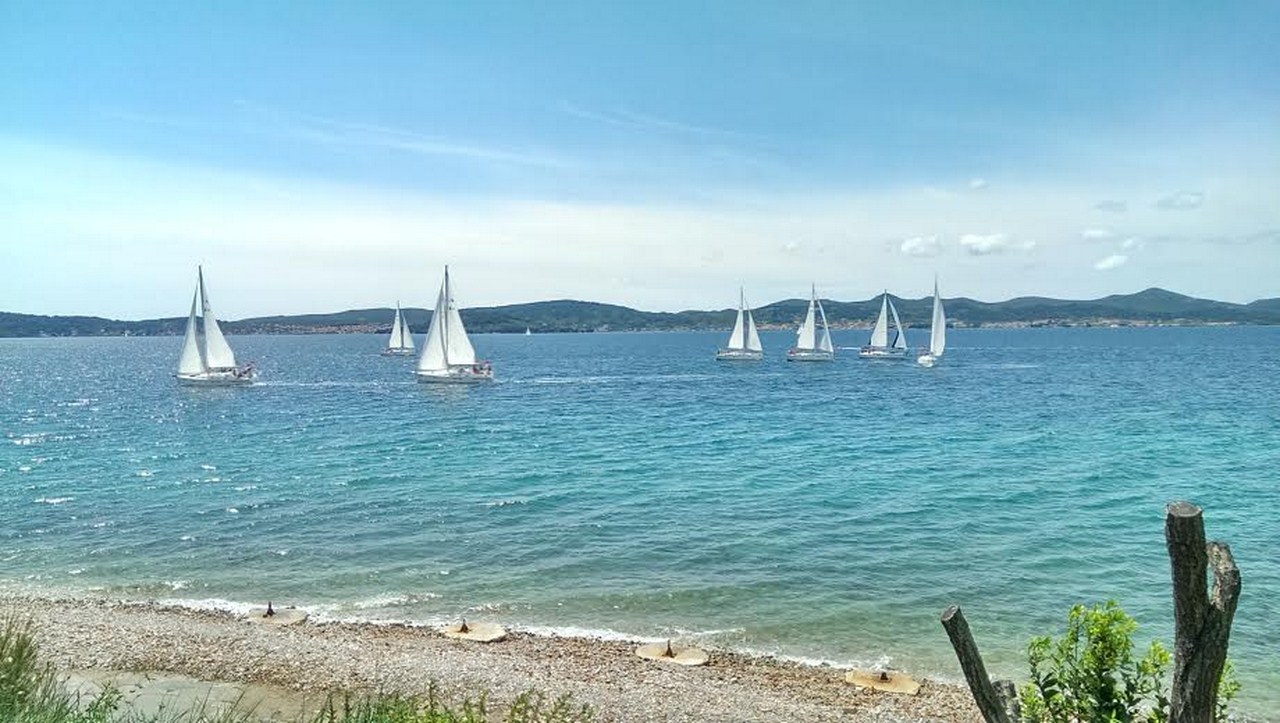 Pet-friendly beach … in Privlaka
Experience some water joy with your furry friend! If you bring a pet along on your holiday, make sure it gets its share of fun as well. While the beaches in your immediate vicinity may not allow pets, you can take yours to a beach in Privlaka just before the Vir Bridge or onto the island of Vir, let them freshen up at the Foša port while visiting Zadar or look for a secluded beach just outside the residential area.
Finding your perfect place in the sun…
Literally! By staying at the Sunnyside apartments in Petrčane you have an excellent starting point to explore beaches in Petrčane and wider, find just the right spot and simply unwind by the sea. Whether you are all alone on the beach or prefer the lively buzz, make the most of your time outdoors soaking up the sun and keep those feel-good moments in your memory as a reminder of your excellent beach holiday in Petrčane.